Regular price
Sale price
$29.00 USD
Unit price
per
Sale
Sold out
Share
View full details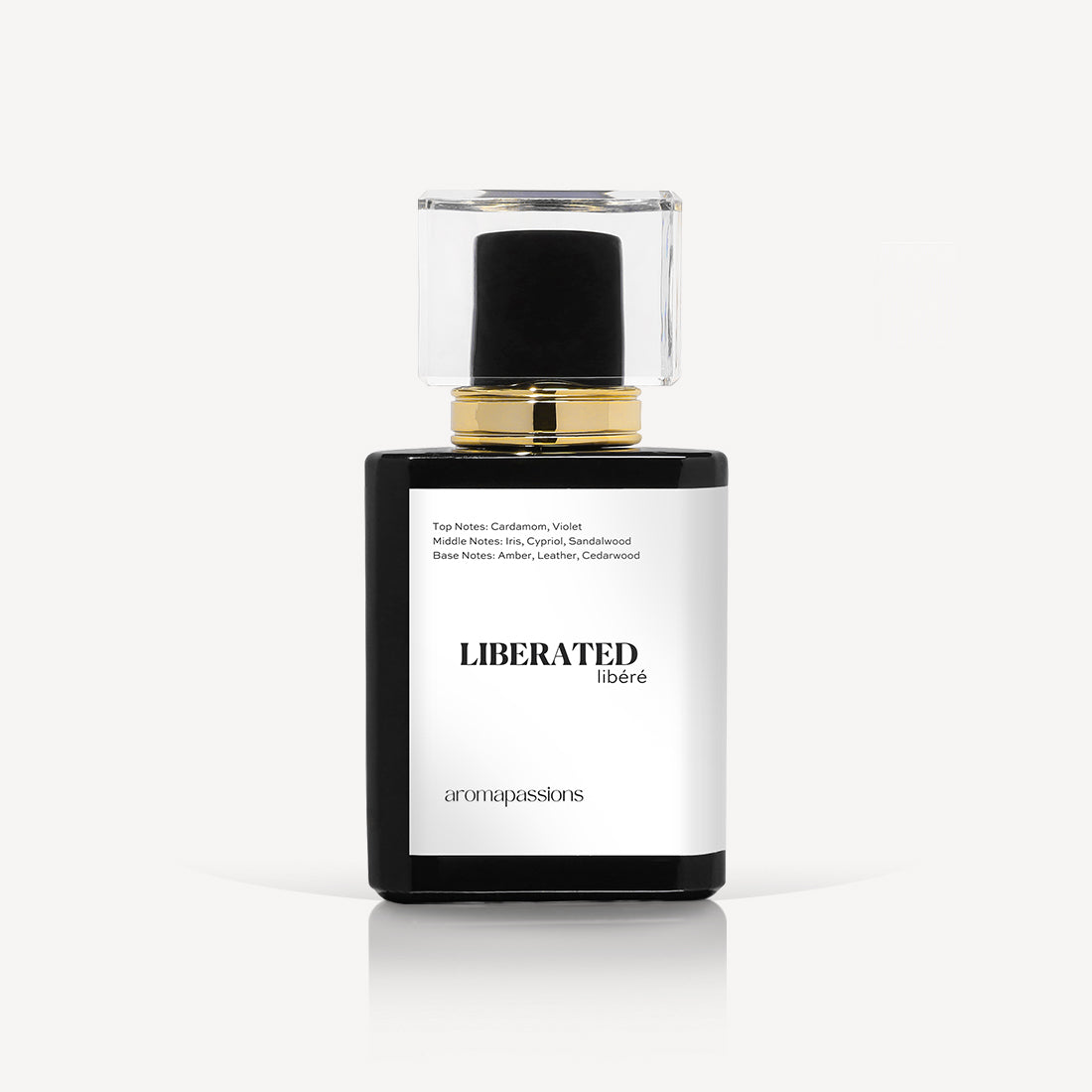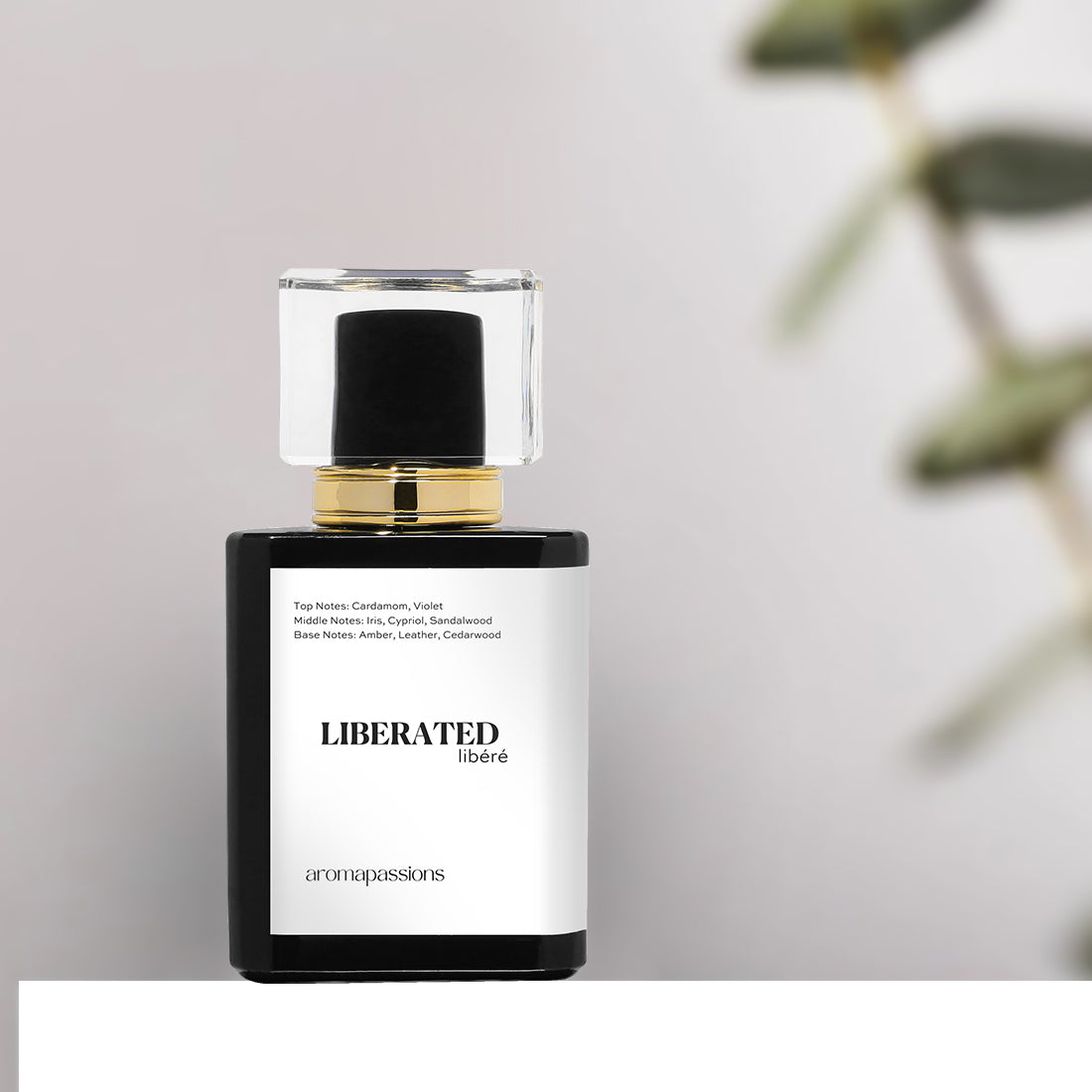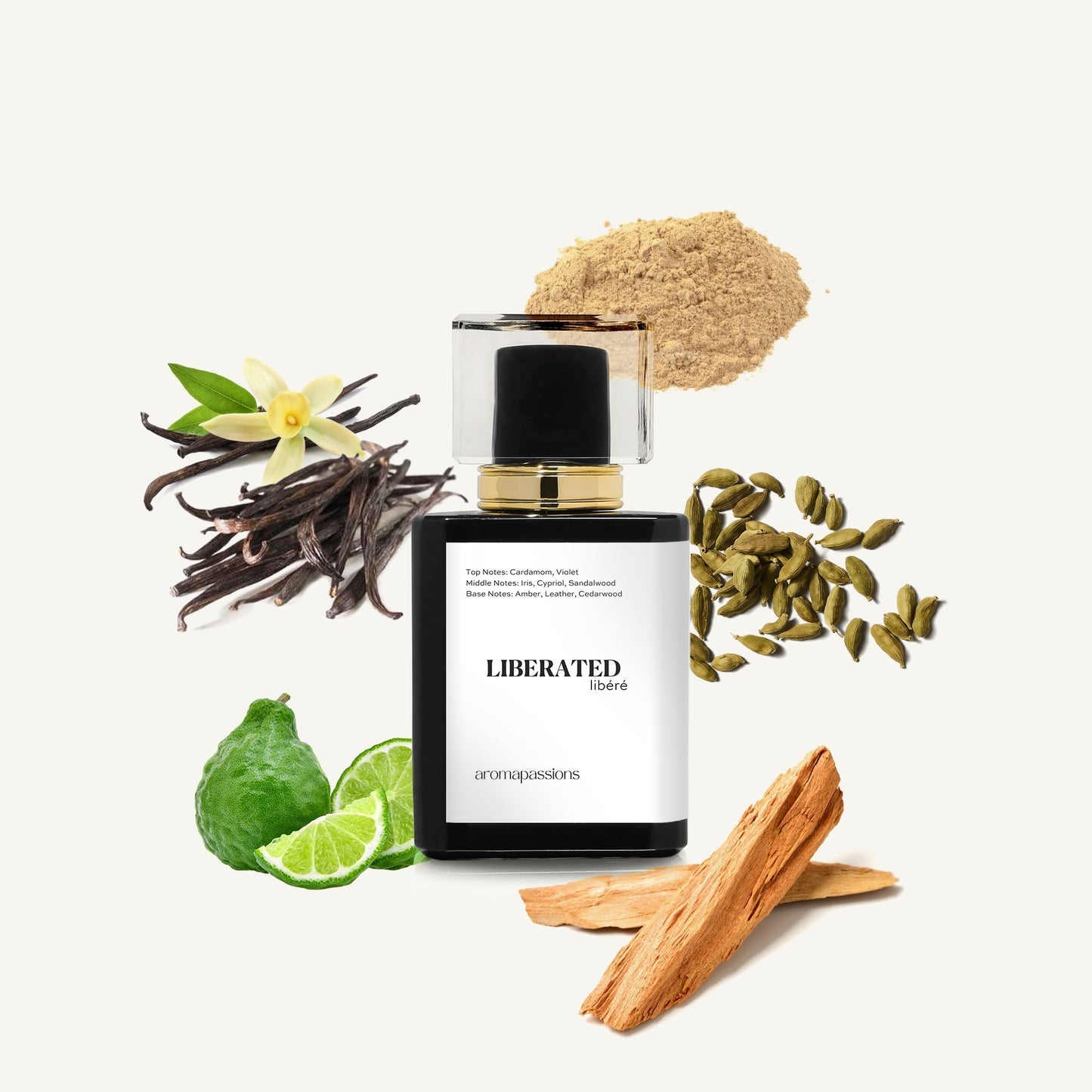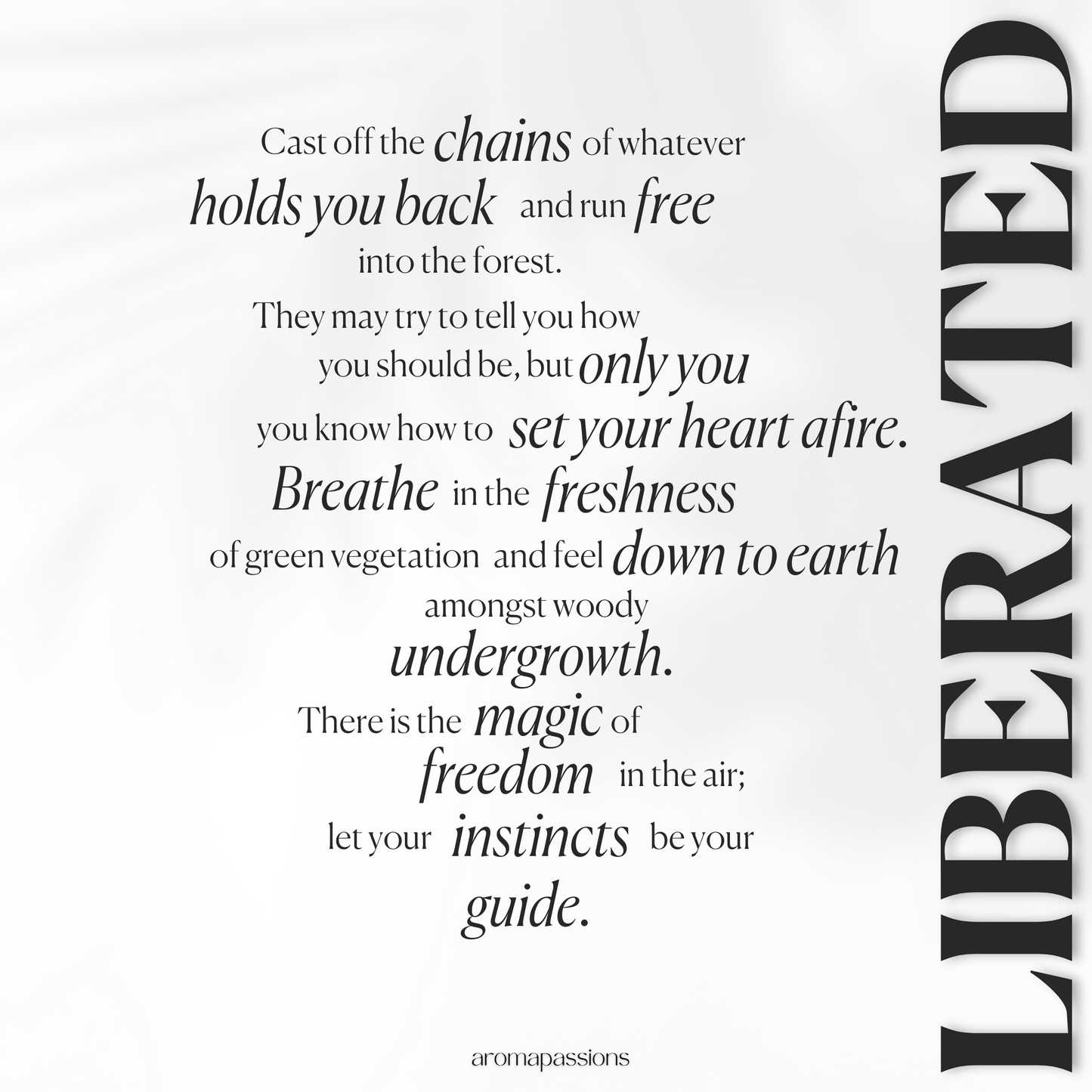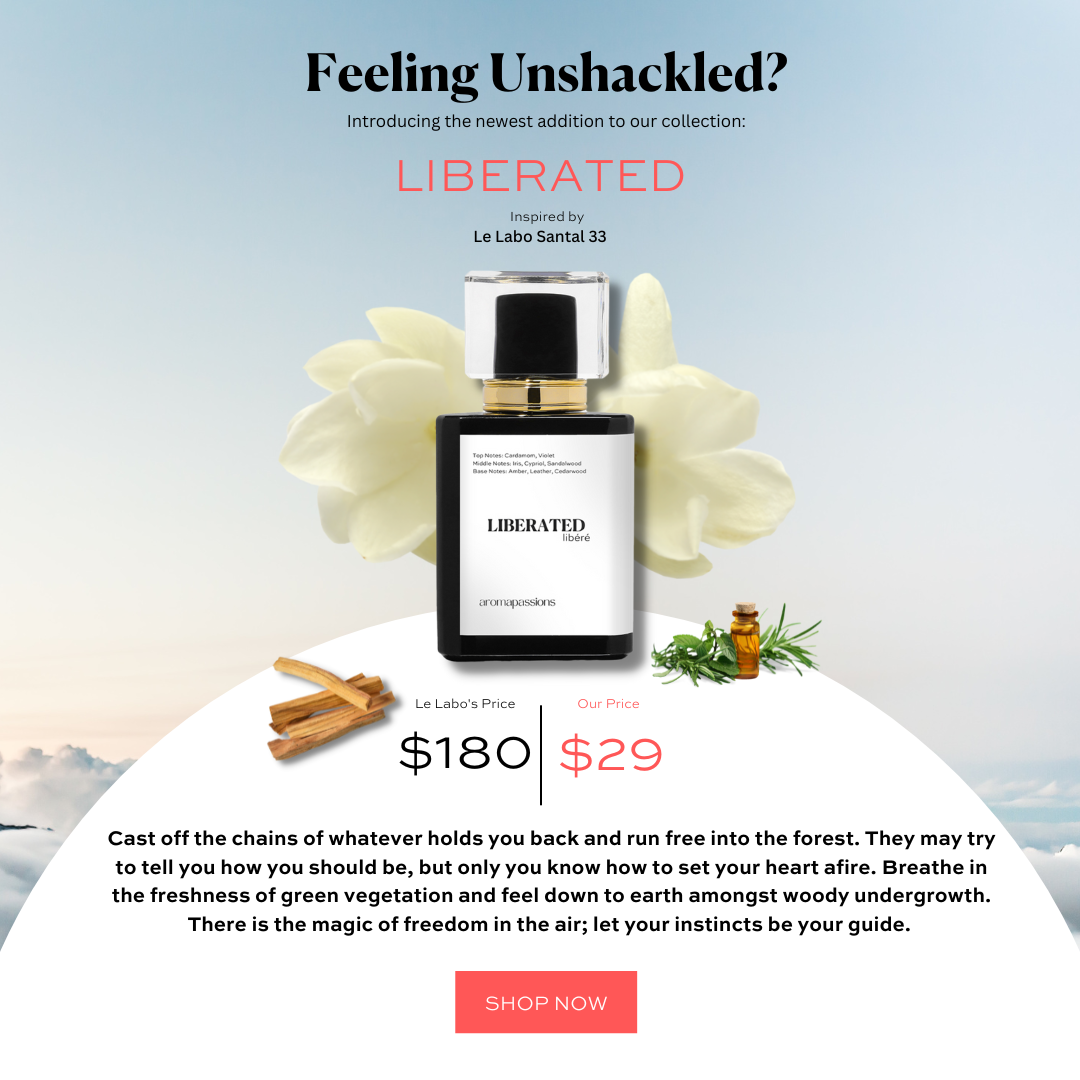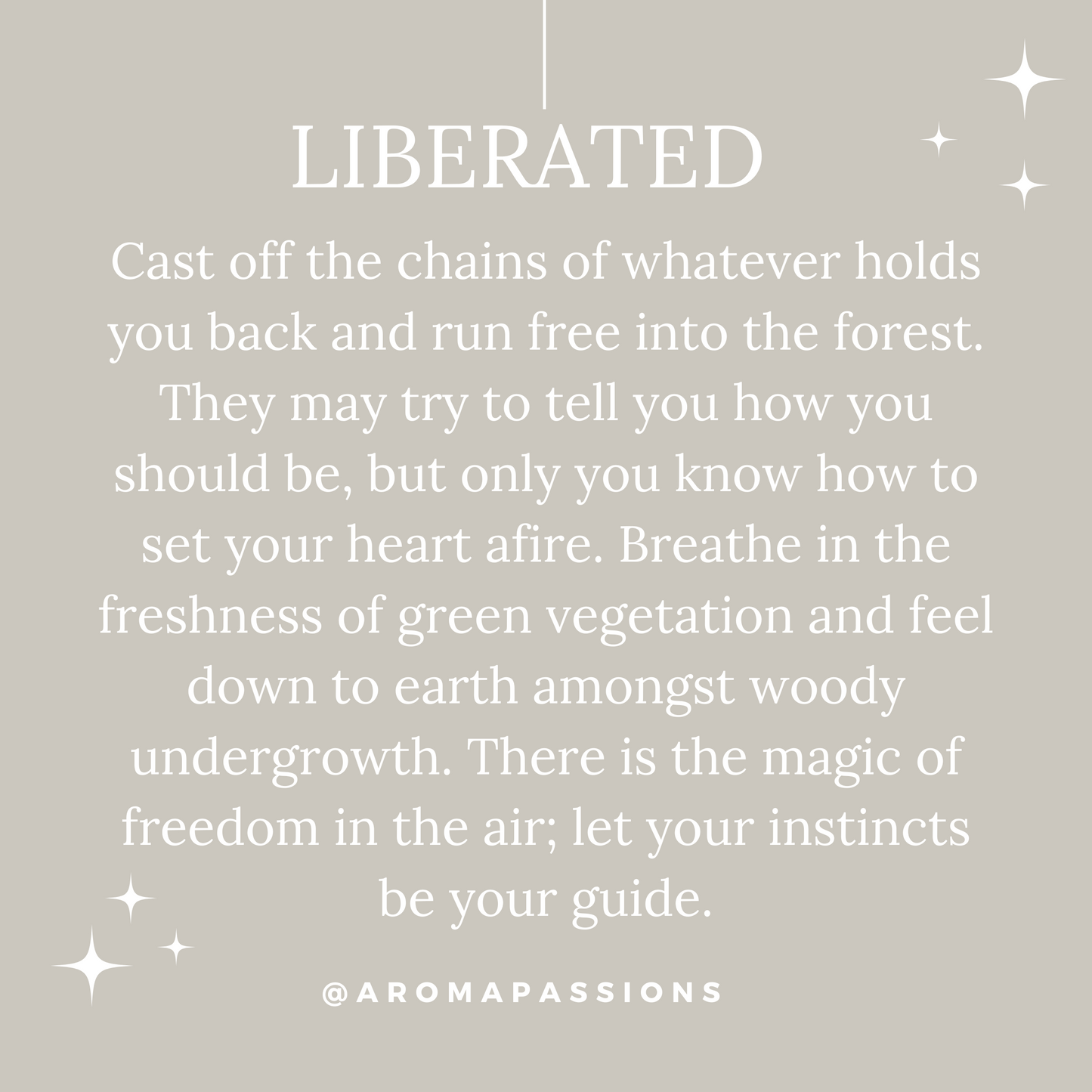 LIBERATED || Shake off the restraints that bind you and venture untamed into the embrace of nature. Ignore the voices that dictate who you should be; you are the master of your own inner flame. Inhale deeply the pure air of nature's greens and ground yourself amidst the rich, earthy blanket of the forest floor. Experience the enchanting spell of liberation that fills the atmosphere; let your inner compass lead the way.
Introducing our LIBERATED fragrance, influenced by the iconic Santal 33 by Le Labo, meticulously blended by global fragrance artisans and aromatherapy connoisseurs. This gender-neutral scent is infused with a palette of Cardamom, Amber, Sandalwood, Cedarwood, Bergamot, Carrot, and Vanilla Essential Oils, creating a tapestry of aromatic delight.
Cardamom || Spicy | Warm | Comforting 
Vanilla || Soothing | Pleasant | Natural Stress Reducer
Sandalwood || Reduces Anxiety | Clarity | Peaceful 
Amber || Romantic | Relaxing | Stress Reliever
Cedarwood ||Warm | Woody | Soothing | Calming
Bergamot || Fresh | Rejuvenating | Feeling of Joy
Find Us On |
The Power of Scents | The potency of scent as a conduit for emotion and memory is unmatched. It is widely acknowledged that specific fragrances can unlock positive emotions, amplify performance, and positively shift your mindset. For ages, the art of aromatherapy has embraced the therapeutic benefits of essential oils, celebrated for their ability to alleviate stress, soothe the mind, and energize the spirit with vigor, creativity, and joy.
Our Mission | At Aroma Passions, our dedication to crafting superior perfumes is paralleled by our commitment to purity, leveraging only the finest natural essential oils and constituents at a price accessible to all. Our mission goes beyond fragrance production; we strive to evoke and inspire a meaningful, purpose-driven existence, accentuated by scents that touch our emotions and ignite our deepest passions. With affection, the Aroma Passions Team.
Aromatic Notes |
Top Notes: Cardamom, Violet
Middle Notes: Iris, Cypriol, Sandalwood
Base Notes: Amber, Leather, Cedarwood
Ingredients | alcohol, aqua, cypriol heart oil, methyl laitone, beta ionone, amyris wood oil, sandalwood oil, cardamom extract, juniper berry oil, carrot seed oil, bergamot oil, gurjun balsam oil, eucalyptus globulus oil, vanillin, geraniol, melonal, alpha ionone. 
Concentration | 20%
Size | 30 ml | 50 ml | 100 ml
Share it On |