Regular price
Sale price
$29.00 USD
Unit price
per
Sale
Sold out
Share
View full details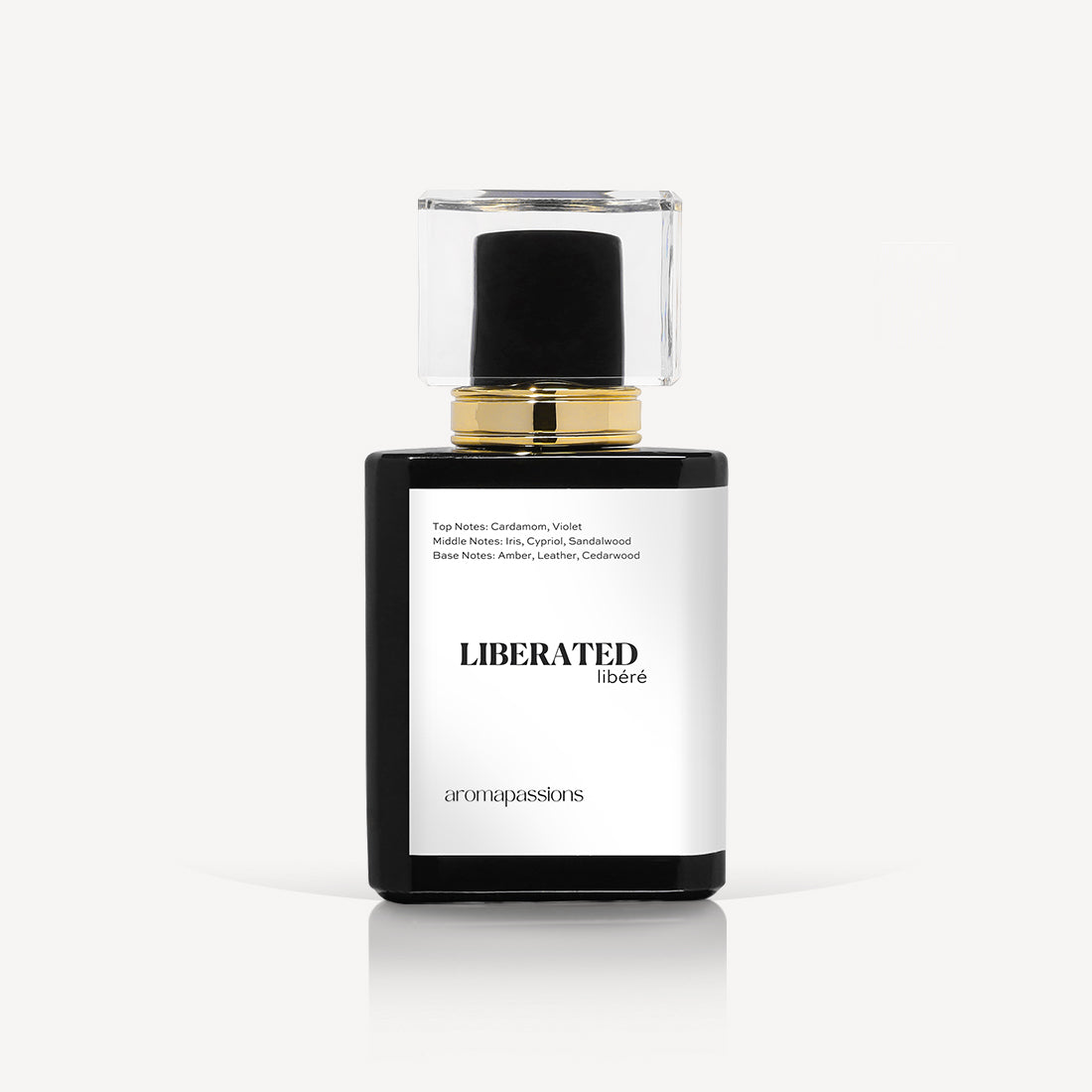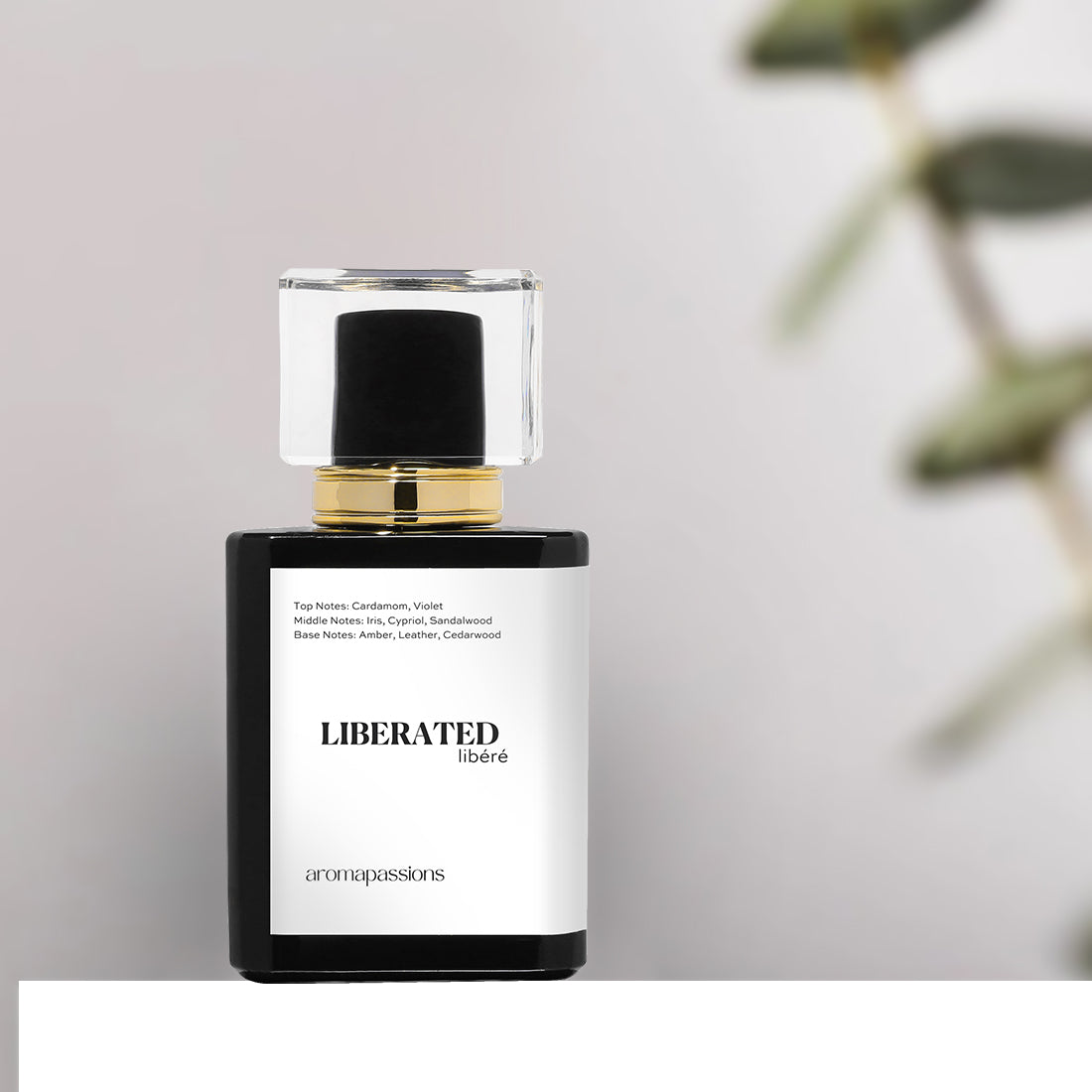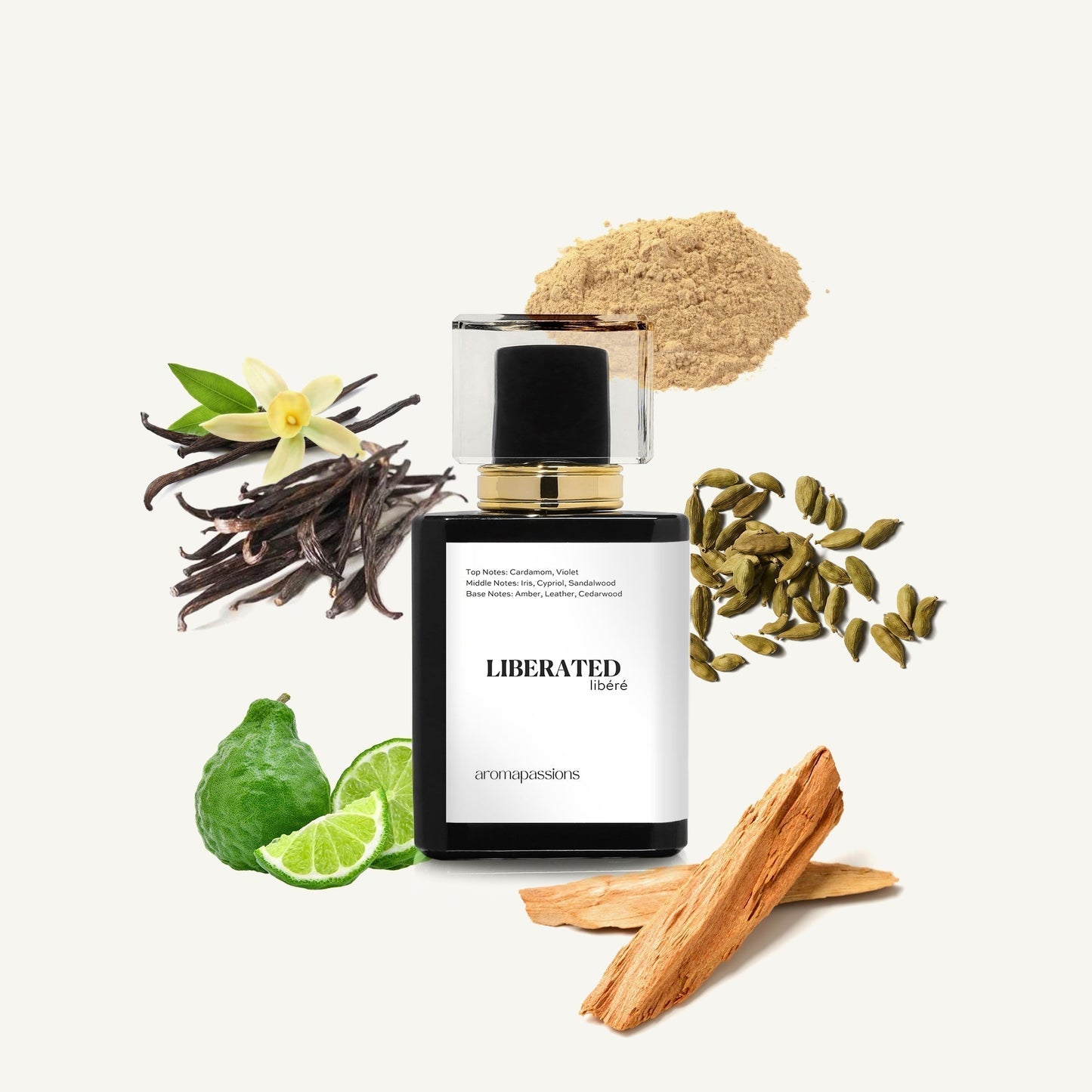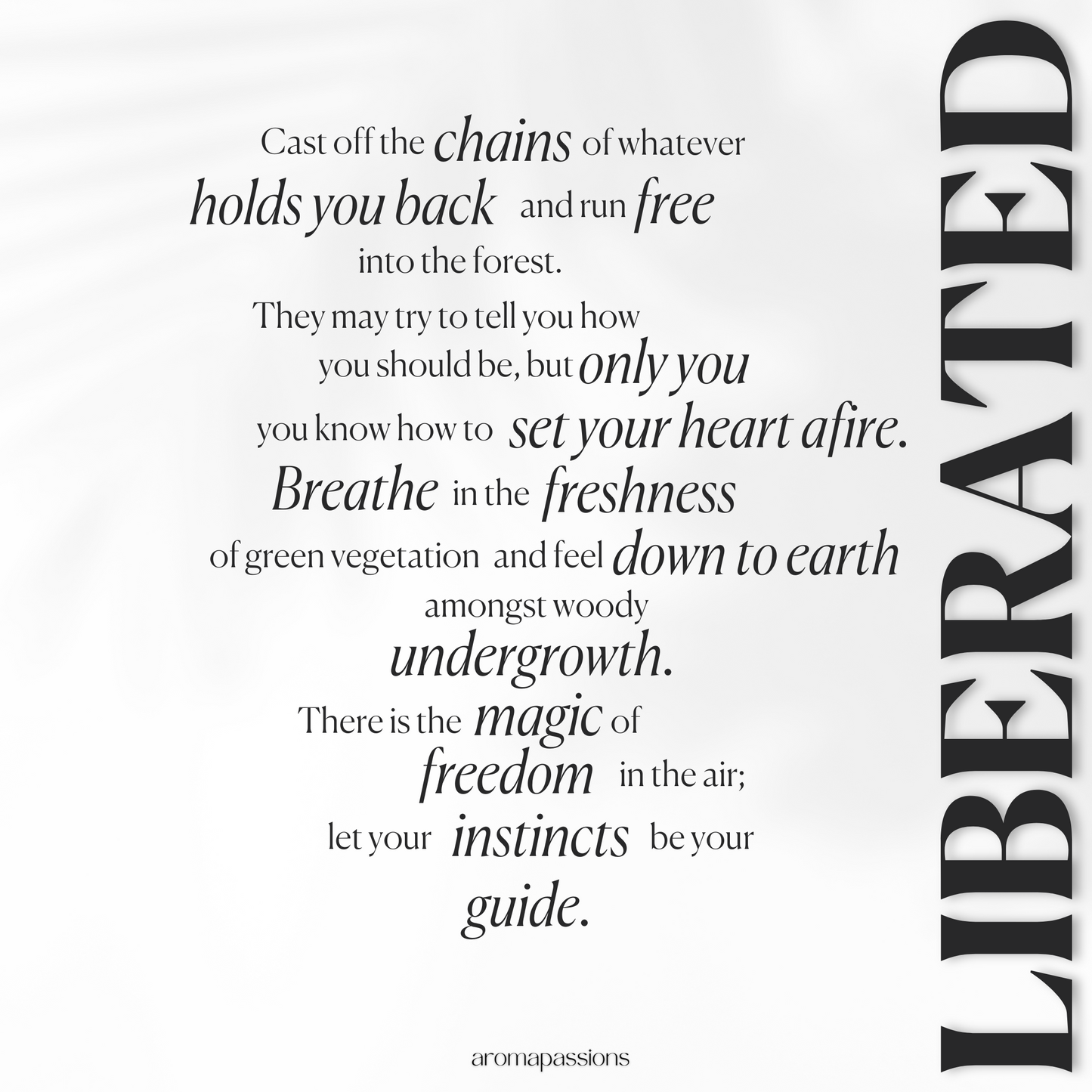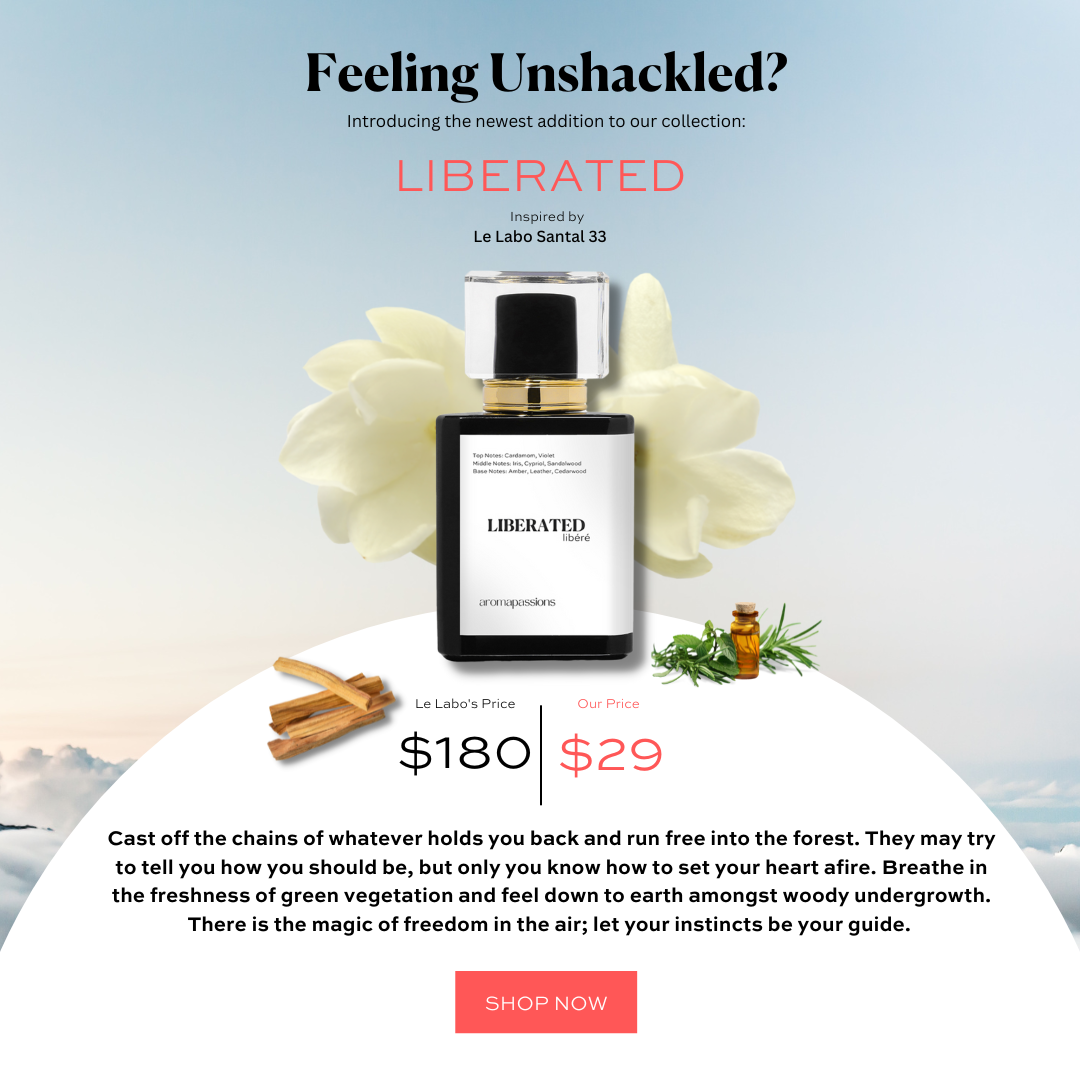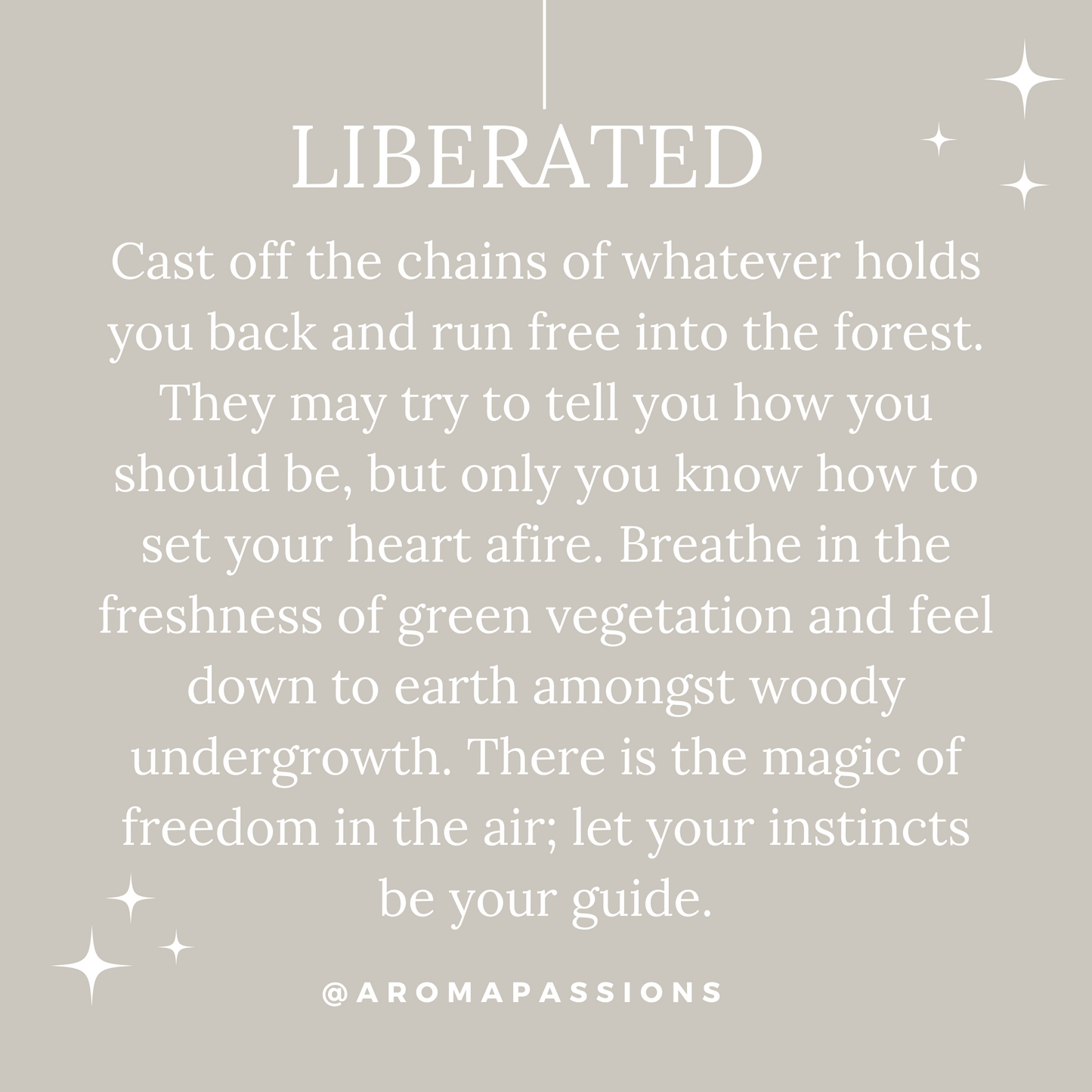 LIBERATED || Step out of the shadows of conformity and into the pure expanse of the wilderness. Ignore the prescribed narratives of your being; you are the sole artist of your inner blaze. Breathe in the pristine, earth-laden air, anchoring yourself in the primal cradle of the woods. The breath of liberation is all around; let it guide you as you trust your inherent instincts.
We proudly unveil LIBERATED, our interpretation of the revered Santal 33 by Le Labo, an aromatic creation born from the collaboration of world-leading perfumers and aromatherapy gurus. This non-conformist fragrance intertwines the essences of Cardamom, Amber, Sandalwood, Cedarwood, Bergamot, Carrot, and Vanilla Essential Oils, each carefully chosen to enrich the bouquet with its unique character.
Cardamom || Spicy | Warm | Comforting 
Vanilla || Soothing | Pleasant | Natural Stress Reducer
Sandalwood || Reduces Anxiety | Clarity | Peaceful 
Amber || Romantic | Relaxing | Stress Reliever
Cedarwood ||Warm | Woody | Soothing | Calming
Bergamot || Fresh | Rejuvenating | Feeling of Joy
Find Us On |
The Power of Scents | The undeniable power of scent to stir emotions and revive memories is remarkable, with certain fragrances known to evoke a cascade of uplifting feelings, sharpen focus, and transform mindsets. The time-honored tradition of aromatherapy has long harnessed the restorative power of essential oils, revered for their stress-relieving, mind-easing, and spirit-energizing effects, fostering a state of creativity and elation.
Our Mission | At Aroma Passions, we pledge to deliver exceptional perfumery, spotlighting natural, high-quality essential oils and ingredients at a price that's welcoming to all. Our ambition is lofty; to infuse life with fragrances that do more than just scent—they awaken emotions, inspire action, and celebrate the myriad passions that define us. With sincerity and devotion, the Aroma Passions Team.
Aromatic Notes |
Top Notes: Cardamom, Violet
Middle Notes: Iris, Cypriol, Sandalwood
Base Notes: Amber, Leather, Cedarwood
Ingredients | alcohol, aqua, cypriol heart oil, methyl laitone, beta ionone, amyris wood oil, sandalwood oil, cardamom extract, juniper berry oil, carrot seed oil, bergamot oil, gurjun balsam oil, eucalyptus globulus oil, vanillin, geraniol, melonal, alpha ionone. 
Concentration | 20%
Size | 30 ml | 50 ml | 100 ml
Share it On |